Happy new (Gregorian) year--and cool end-of-the-year news!
January 1st, 2012 (05:41 pm)
current location:
The Victorian Dollhouse
current mood: cheerful
current music: Ed typing
It doesn't feel like a new year to me, but
aryasura
and I went out last night for Thai food and then ended up stopping at
babarnett
's, where we rang in 2012 with wine and champagne. I had chocolate wine. Yum!
Also, earlier in the day, I had a productive writing session with
starlady38
, whom it was wonderful to see again (and who lent me anime!), and then I dropped off a book at
blood_of_winter
's house. I was so happy to see them both and get hugs. :)
The past couple of weeks were hard, in that the old ugly doubts and mental patterns reared their heads. But now that I have health insurance again, I will be seeking out a cognitive behavioral therapist this week to do something about it. I know I am loved, I know I am worth a lot, I know I'm fun and smart and talented--all the things the mental patterns try to say I'm not. So it's time to kick them to the curb.
And my cool news is this: as a last-minute gift from 2011, I learned I'd sold audio rights to PodCastle for my fairy tale retelling "Lavanya and Deepika," which originally came out in
Demeter's Spicebox
. Whee! I am so excited and will let you all know as soon as it's available.
Also wonderful: Ed surprised me with an LED cherry blossom tree! The picture below gives you an idea of the flowers, but the tree I have isn't a bonsai.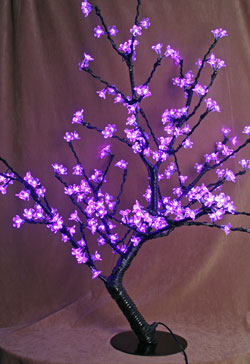 Now I just have to get this novel draft done. Really, I'm so close. . .